Defendants Rosenberg
opera in 2 acts
1999 // Theater der Landeshaupstadt Magdeburg (WP)
"The world premiere was greeted with enthusiastic applause. The audience had experienced an emotional and deeply moving performance at the highest musical level." -Die Volksstimme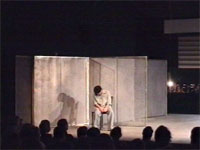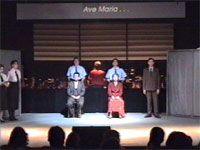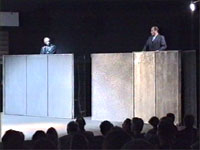 Defendants Rosenberg
Opera in two acts by Ari Benjamin Meyers
WP December 1999 // Theater der Landeshauptstadt Magdeburg // Workshop performance 1996, Peabody Conservatory Baltimore
Libretto:
Ari Benjamin Meyers
Musical Director:
Fabian Dobler
Director:
Holger Pototzki
Scenic Design:
Tom Presting
Awards:
Margaret Jory Grant (American Music Center),
ASCAP Young Composer Award
Duration:
ca. 2 hours //
Vocal Parts:
Sop, Mez, Ten, Bar, Bar, Bass + Chor //
Orchestration:
Fl/Pic, Cl, Ob/E.Hn, Tpt, Trb, Harp, Perc (2), Strings //
Language:
English (available also in German)
Preview material + CD:
available from the
composer
"Actually,
Defendants Rosenberg
is a love story. Clearly the story is political, and of course I have my opinion about the case, but the point of the opera was not to prove their innocence or guilt. I have tried to portray them first and foremost as real people. This is for me the main point of the opera: how young they were when the were executed, that they left two children behind. I think we tend to forget that they were just normal people and not the icons that we have turned them into."
Ari Benjamin Meyers in interview with Takte Magazine

...All in all a very varied musical language, intense and striking.
Kerstin Sieblist, MDR-Kulturradio

...a masterpiece!
Dagmar Dresche, Magdeburger Stadtjournal

...Long applause that turned into foot-stoomping grew when the 27 year old composer took the stage.
Süddeutsche Zeitung


...The world premiere of "Defendants Rosenberg" was received with enthusiastic applause. The audience experienced an emotional, deeply moving performance of the highest musical quality.
Dr. Herbert Henning, Volksstimme

...in 1999 to compose a real aria is pretty much the most courageous thing a modern composer can do; but it works because Meyers knows his way around the traditional opera repertory, both musically and dramaturgically, and picks up where Puccini's emotional realism left off.
Frederik Hanssen, Der Tagesspiegel